Happy Friday all!
Today I have decided to join the
party
, and link up with Ashley over at
The Sweet Season.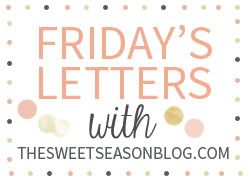 Dear Hubby
,
Thank you for being so patient with me when I am stressed, hormonal, and to put it simply...acting a little
cray
:P
I will always strive to be the best wife I can be to you (which means I will pack up the baby, put on my house slippers, and come rescue you when you run out of gas on the side of the road...
hehe
)
And lastly, I am really looking foward to our date tonight!!...Whataya say...pick me up at 7:00? On second thought, better make it 4:00....gotta get our fun in before baby's bedtime :)
Dear Harper
,
I don't think I have loved anything more then you. I love your
daddy
very much, but my love for you is so much more..Maybe because you are still so small and innocent, and you depend on me for everything. But know that I will always be here for you, and will love you
forever and ever
.
I'm sorry that your gummies hurt, but once those teefers come in, you will forget all about the pain they caused...you will be too busy eating yummy fooooods :)
Dear Tucker
,
I still love you, even if I am busy doing other things now. I always try to take the time to show you that I still care. I know you are bored, but please stop escaping and going on adventures down the road. I don't know what I would do if anything happened to you!!!
(same goes for you kitties...you will always be my babies too! Even though you annoy the crap out of me sometimes...
hehe
)
Dear Mother Nature
,
I'm not sure if you got the memo...but it is supposed to be
Spring
now!
It can start warming up any time now, we are all ready
:)

Dear Friday
,
Please be kind today! This has been one long week, and I have faith that you will cut me a little slack today...
:)